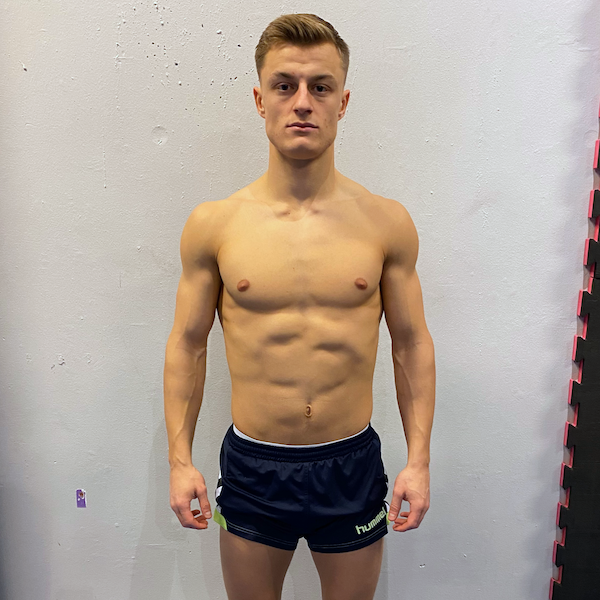 VEJRTRÆKNING OG KROPSHOLDNING
En person's vejrtrækningsevner afspejler sig i deres kropsholdning.
Løftet hage, dovne øjne, udefinerede kindben, rundede skuldre og smalle/låste ribben er et udpluk af de indikationer, der definerer en person med dysfunktionel vejrtrækning.
Det kan derfor siges, at vores fysiske proportioner gensidigt afspejler vores interne sundhed.
The investment in this course was the best I could have done. Doing MFR, in the first weeks of exercise, I got rid of months of pain and pressure in my back. I am slowly implementing posture correction exercises and I can already see positive results. I am impressed that this is how you can help yourself, and I hope to help others in the future. All that remains is to practice MT Performance constantly and I will certainly forget about problems with pain and bad posture. It really is the best thing I could treat myself to.
The course changed my way of thinking about exercise completely. I can feel how my posture is better. I have less pain in my spine and more energy after every session. I learnt to breathe through my nose and finally get rid of runny nose, which was caused by breathing through my mouth.
His stuff is amazing. The stuff he teaches is what trainers could and should be teaching in the future. He's way ahead of the game. His program is a hidden gem. Highly recommend it.
Jeg brugte MT Performance efter 3,5 år med smerter grundet et ødelagt og overbelastet bækken. Jeg havde allerede brugt utallige timer hos flere forskellige fysioterapeuter, kiropraktorer, og massører med akupunktur. Kiropraktorerne fik sat mit bækken på plads, mens fysioterapeuterne gav mig masser af træningsøvelser, så mit bækken skred ud igen, og jeg kunne ligge grædende på gulvet i smerte. Min egen praktiserende læge sagde, at jeg havde udsigt til at blive "kronisk bækkensmerte-patient". Blot 3 sessions senere hos MT Performance, og for første gang siden 2016, var jeg smertefri, og jeg er nu i stand til at lave ting, jeg ikke har kunnet i årevis!
The 10-Week Course was really a life changing experience for me. My life improved in all aspects after applying methods from the course into my daily routine. Results are amazing, and the best thing about this methodology is that it works for everyone: young, old, man, woman.
Allerede indenfor den første måned af 10-Ugers Kurset, forbedrede min mobilitet sig markant gennem hele kroppen. I dag bruger jeg de samme metoder i mit arbejde som behandler.
After 15 years of doing BJJ with injuries hard to get rid of, the 10-Week Course has truly made a difference to me. I was trying lots of things (acupuncture, osteopaths, massages etc.) without noticing any difference. But this course was a game changer for me in helping me understand my body.
Jeg har aldrig prøvet et program som dette før! For den traditionelle måde at behandle og "fixe" kroppen på, kan koncepterne virke kontroversielle, men jeg elskede det!